Every day in October I will be rocking an A To Z Blog Challenge about my terribly terrific tattoos. Every day a new letter. Today is October 22 and the letter of the day is R.
R is for Rockin' Rodney Speed

Rodney Speed. My homie. My bandmate. My muse. My best friend. Rodney was one of the first guys I met when I started working at Wetlands. And he was one of the last that I became friends with. Rodney doesn't suffer fools gladly. And I'm nothing if not a big fool. A lot of the time. But become friends we did. Big time. I've been to more arena rock shows with Rodney than any other man I know. I've been to more wrestling matches with Rodney than any man I know. I've been on more vacations with Rodney than any other man I know. I've been to more chain restaurants with Rodney than any other man I know. And I play in the best band in the world with Rodney – The Rodney Speed Experience.
Rodney has the kindest soul and the deepest eyes of anyone I know. In fact, Dick Dale once told Rodney "You have the soul of Fats Domino inside you. I can see it in your eyes." When we went to see Cheap Trick last month on Long Island – the singer Robin Zander walked right up to Rodney backstage as if they were old friends and said it was great to see him again. They had met 6 months earlier when Robin Zander had played a solo show at BB Kings in Times Square where Rodney serves as a janitor by day and as a DJ by night. In fact every member of Cheap Trick just had to get their picture taken with Rockin' Rod. He leaves quite the impression on people.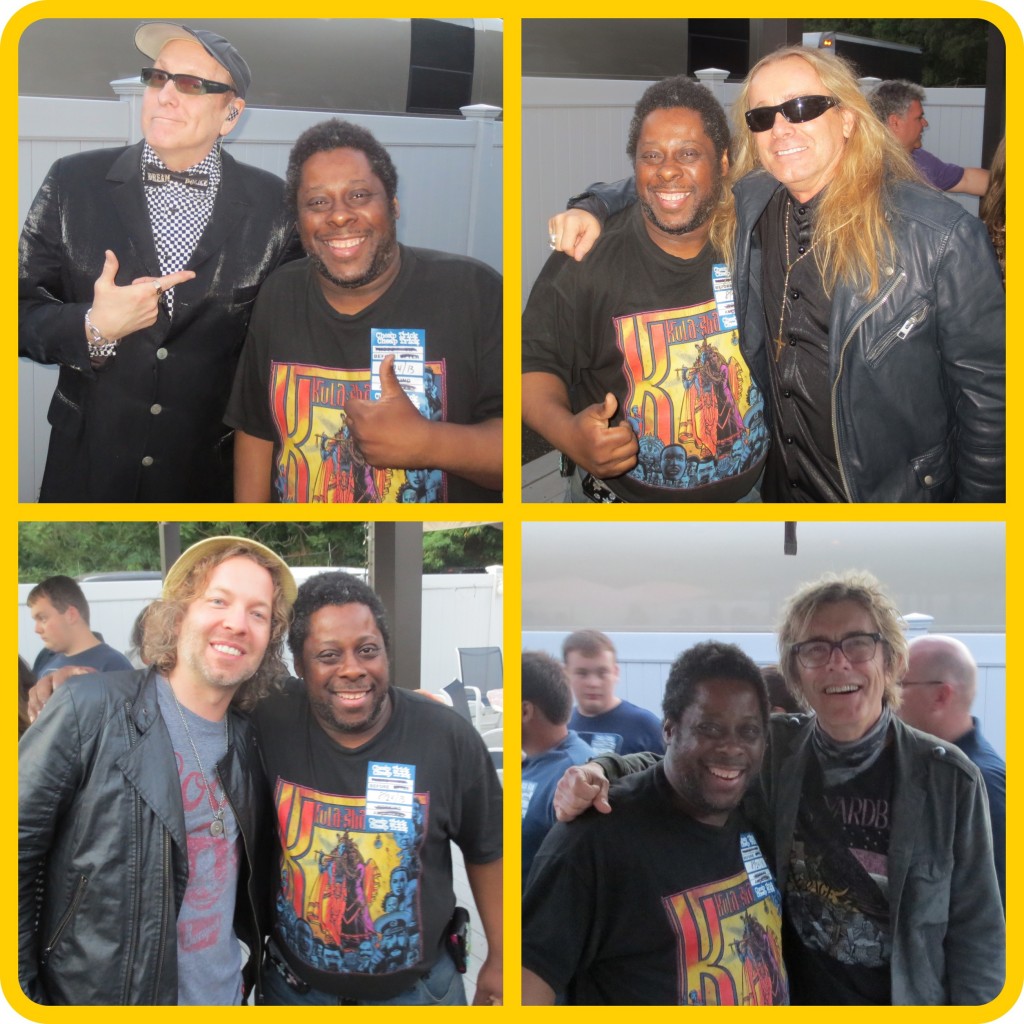 Wherever Rodney goes people look and say "I don't know who that guy is, but he's got to be SOMEBODY!" Shit, last year when we went to London not only did Ginger Wildheart ask him to go onstage and introduce the Wildhearts in front of more than 3,000 people, he also had Rodney co-host his popular radio program the next night, where Rodney lit up the London airwaves with his irrepressible and unsurpassable knowledge of Rock N Roll. Rockin' Rod has legitimately forgotten more about the history of rock n roll than most people will ever know*. Anyone who has spent any time with him will agree. But it's not only rock n roll that tickles his cortex. On our trip to Dollywood in Tennessee we played Trivial Pursuit one night. Rodney smoked the rest of us and it wasn't even close. At one point he cooly answered a question in the literary category by saying "Margret Meade, who else!?" I didn't, and still don't, have any idea who that chick even is…
The first time I went to Asia, I returned with some new ink. It was a red rectangle with a crescent moon and a few stars. A few days after I got back Rodney came to my apartment to watch wrestling, and when he got there I showed him my new tattoo. He took one look and it and said "That's nice" I said "Do you know what it is?" He said "Of course. It's the Singapore Flag, what else?!?" When I asked how on earth he knew that so quickly, he said "I studied the world's flags in middle school."
The point being that we can read all the books, take all the classes, and watch all the documentaries we want. But we're all still playing catch up with Sir Rockin' Rodney Speed.
It's an honor to be his best friend… And even more of an honor to have him as part of me. For life.
It's kind of shame that all of the tattoos that surround Rodney won't get their own post during this A-Z Tattoo blog run… I might have to make a 'bonus post' to explain some of those…
Click here to see the story of Rodney from the first A-Z blog. It's about the time he schooled a bunch of professional touring musicians, onstage at Wetlands, while fronting an all star band covering the Deep Purple classic "Smoke on the Water"
*Technically not true. Rodney has never forgotten anything he has known about rock n roll.
Many thanks to the irrepressible spirit and lovely lens of Deneka Peniston for the tattoo pics!