Every day in October I will be rocking an A To Z Blog Challenge about my terribly terrific tattoos. Every day a new letter. Today is October 21 so the letter of the day is Q (I'm taking Sundays off. Columbus Day too!)
Q is for the Queers

I love the Queers. Sure they sound like the Ramones. But a snottier version of the Ramones. And, dare I say it, even more melodic. Their first album, "Grow Up", was pretty good. But their second album, "Love Songs for the Retarded" is a veritable classic of the punk rock genre. And they haven't stopped making great music. The "band" really is Joe Queer. He's the one constant member and the band's sole songwriter. He's got a true gift for riffs and melodies, but his most impressive skill might be his ability to still write from the point of view of a love hungry adolescent fuckup. Song titles like "Ursula Finally Has Tits", "Fuck The World I'm Hanging Out with you Tonight", and "Born To Do Dishes" say it all.
As much as the music, I love Joe Queer's attitude of not giving a fuck. In the 90s as all of his contemporaries who were signed to Lookout, Epitaph and Fat Wreck Chords were trying to play in bigger clubs and graduate from cramped vans to luxurious tour buses, Joe couldn't be bothered. He LIKES playing clubs. Likes having the fans right there in front of his face. He lives off that energy. Go to a Queers show now and you'll literally see people from 15 to 50 years of age singing along to every song. That's rare. And awesome.
The Queers and Felix the Cat. Inseparable. Around the time of their 1995 "Move Back Home" album Felix that Cat started appearing on their record covers, t shirts and posters. I wanted a Queers tattoo for a while but was having a hard time deciding exactly what image to get. So I made my own, in tandem with Glenn Hidalgo, of course. "Glenn, I need an image of Felix that Cat wearing a captains hat and smoking a pipe while driving a boat that's shaped like a Les Paul guitar. And there should be an octopus attacking the boat." He told me I was crazy and that it would never work. So I drew up my own sketch to give him an idea of what I was envisioning.
This is why I don't do my own drawings:
And this is what Glenn came back with: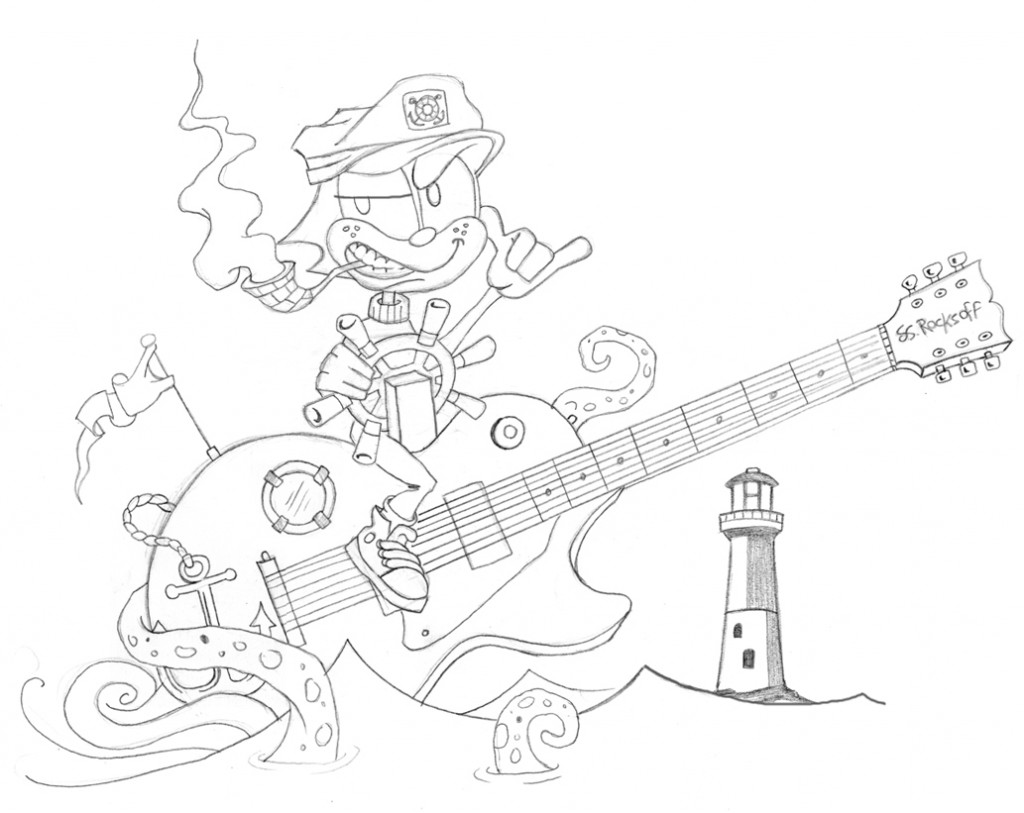 After living with that for a few weeks I decided that I didn't think it would make for a good tattoo… so instead I made t-shirts out of it: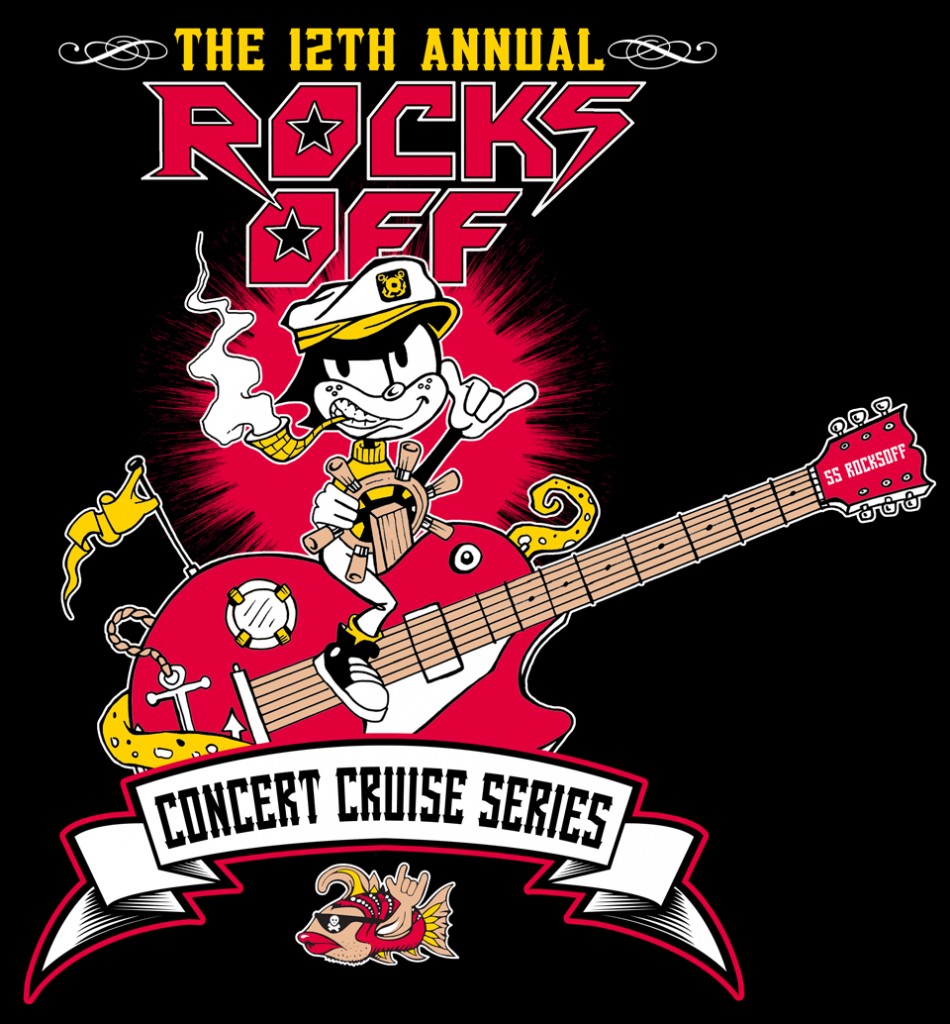 And then went with an image the Queers had made of Felix in a space suit, playing a guitar and flipping the bird. But added a flying saucer for him to be riding. And I asked Tasha Rubinow at Inborn Ink in NYC to make the colors as psychedelic as possible.
I think she did a pretty good job.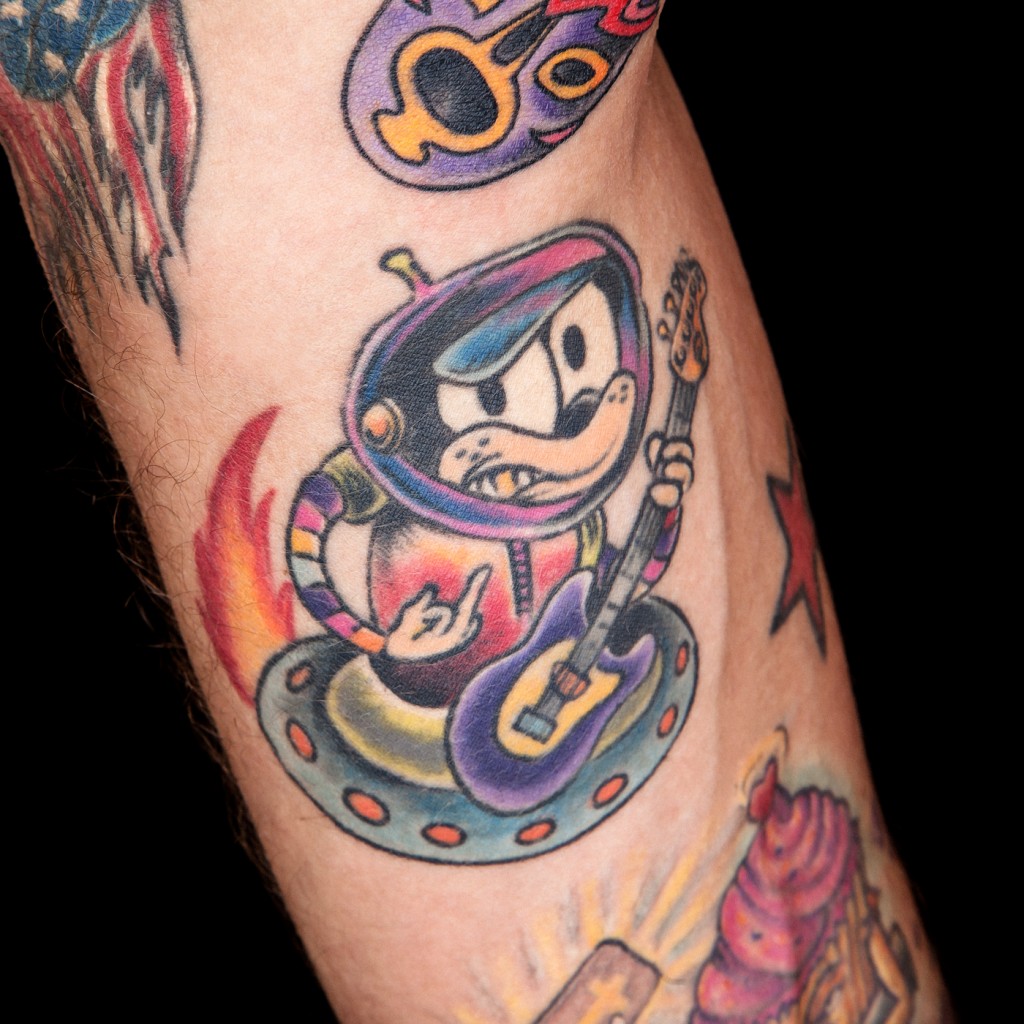 Joe Queer on the Get Your Rocks Off podcast: