Well I've finally done it. I've transitioned. From the largest city in America to an official resident of our country's smallest town.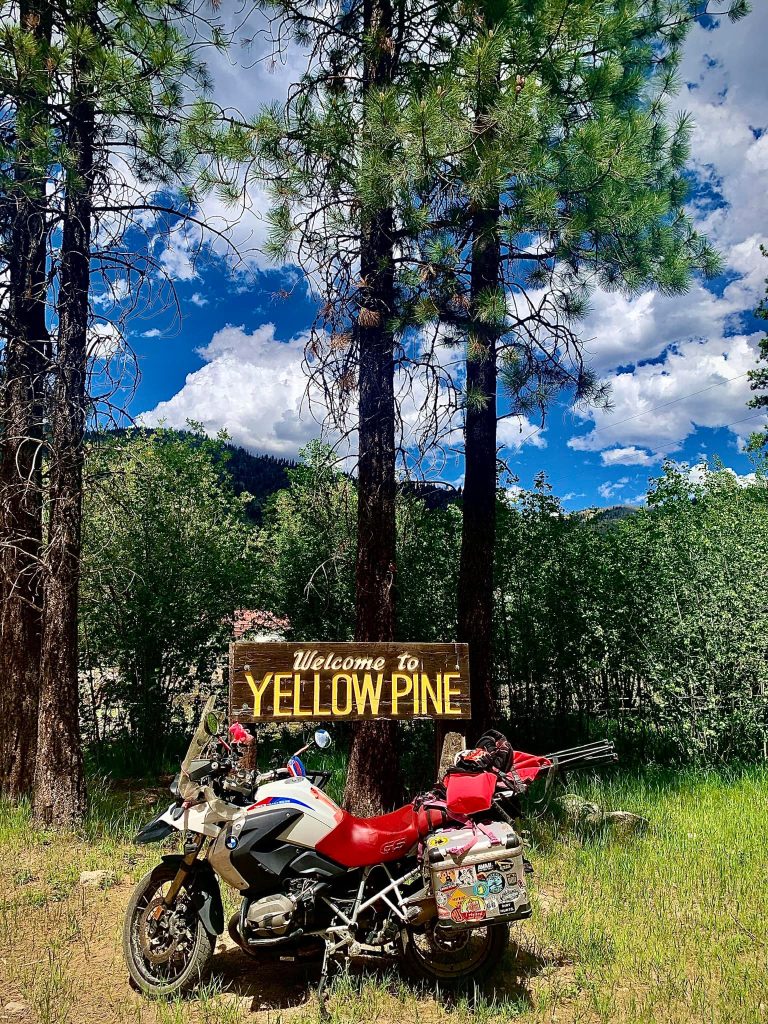 In June of 2020 I tossed my keys at my NYC landlord and took off on my motorcycle for what I thought would be a few months of literally riding out the pandemic. When fall came I ended up settling down in McCall, Idaho. A bucolic town of 3,000 people that sits high up in the North Fork Mountains two and a half hours north of Boise, McCalm, as I dubbed it, has a gorgeous lake, a ski mountain, lots of hiking trails, and a couple of grocery stores, one of which even sells guns! And just like that I realized I had found myself living in a shotgun shack, in another part of the world, asking myself "Well, how did I get here??"
After a winter of relative solitude and skiing, of both alpine and nordic varieties, when the snow began to melt I started venturing outward. I got a job as a ranch hand on an organic farm run by a couple of sweet-as-agave octogenarians. But my appetite for wanderlust and socialization was left stilted. So on my days off I got back on the bike and resumed my back country explorations.
When I started to settle in Idaho, I let my fingers do the walking across my keyboard and throughout the internet to find things to do out here. I went to a rodeo in Riggins, Idaho and then my first ever demolition derby in Lewiston, Idaho (just across the Snake River from Clarkson, Washington). Plus I dealt with two breakdowns of the car I bought to drag me through the winter snow. One of which let to me hitchhiking through a windy canyon road before a kind soul picked me up and drove me 35 miles to Boise to seek mechanical assistance. The other left me stranded in a tiny town called Grangeville for 5 days where I made some interesting new friends and discovered some amazing BBQ, meth lab motels and thrift stores full of fantastic 25 cent pulp paperbacks.
But nowhere intrigued me as much as Yellow Pine, Idaho and their "Annual Harmonica Festival" I started asking around about Yellow Pine. And everyone I asked gave me the same reply "Why would you wan to go to Yellow Pine? There's NOTHING THERE!" Then I would ask them when the last time they had been there was and almost universally was told "Never!" Or "We went camping there as a kid."
So now I was officially fascinated. And decided to make the trek one afternoon on my motorcycle. Saying Yellow Pine is in the middle of nowhere is not an understatement. Yellow Pine is nestled smack dab in the center of the Boise and Payette National Forests, and was erected to service the long dormant Stibnite gold mine. It's 77 miles and two and a half hours from the nearest town and / or grocery store, 15 miles from the nearest paved road which itself is a 33 mile serpentine single lane road that hugs the Salmon River, and well, there really isn't anything here. Except two bars, a general store and a "lodge" that makes Eastern European hostels look like the Four Seasons. And the "Buck Horn Outfitters" which I thought was a clothing store but is actually a hunting tour guide service where for the low, low price of $5,700 they will haul you and your gear into the woods and help you track and kill a mountain lion. Which I'm guessing tastes like chicken.
I went for a day trip on the motorcycle and fell in love with the place. I spent the afternoon in the Yellow Pine Tavern, and old wild west saloon which anchors town's dusty dirt road hub. About 100 people live in Yellow Pine in the Summer and 23 full time residents brave the winter here.
When I got home to McCall I couldn't stop thinking about Yellow Pine. So the next weekend I packed up my camping gear and went for a long weekend three-night ride-about. Before I left I told my friends in McCall I was gonna figure out how to move there. Each day I went to the YP Tavern for lunch and to fill my water jugs and started chatting with the owner, a 74 year old firebrand named Lorinne. She's a shining beacon of liberalism in a mostly conservative land. Amongst the tattered Trump flags she sticks out like a functioning thumb and subscribes to Mother Jones & The Atlantic. She also got a psychology degree from the University of Idaho in 1971 which I assume was a rarity for women in these parts back in those days. Oh, and she carries a pistol in her backpack. I'm already looking for engagement rings.
On my third day I asked "Do you run this place all by yourself?" "Yes," she told me.
"Do you need help?"
"What do you mean?"
"Are you hiring?"
"You want to work HERE? But you live in McCall!"
"Well then just book me on consecutive days and I'll ride up here and camp."
"Do you know how to bartend?"
"SURE" I lied, my only bartending experience being one two-hour shift in the basement bar at Wetlands in 1999. But the Tavern only sells canned beer and boxed wine. How hard could it be?
"Do you know how to cook?"
"Back in Manhattan they call me Bobby Flay, baby" I lied again. I hadn't cooked in a restaurant since a high school stint at McDoanld's. But the entire menu is a frozen pizza, a (fantastic) burger, grilled cheese, BLT, fajita and quesedillas. What's the worst that could happen??
"OK, be here Thursday at 2pm. We'll see what you've got."
And just like that, my life took yet another sharp left turn.
I rode the 52 mile, rough, dirt road called Lick Creek over a 7,000' mountain peak that Thursday, found a clearing in a patch of woods along the Salmon River, and set up my hammock. And went to work.
And that's where I spent the summer of 2021. Working as the bartender, cook, waiter, bus boy, dishwasher, DJ and bouncer at the World Famous Yellow Pine Tavern. And let me tell you, you haven't really LIVED til you've thrown a guy wearing a .45 automatic handgun on his hip out of a back country Idaho bar for using the N word. You really should try it sometime. If you've got balls of steel and a little lingering bit of a death wish. Chalk another one up for this ole city slicker!
I spent my days bathing in the river and exploring dirt roads on my bike and most nights sleeping in a hammock under the stars. On the rare occasion it rained I would crawl into my tent. The simple life. And I of course launched a merch line of T-shirts, hoodies, stickers and koozies. My favorite being the "SUCK AND BLOW IN IDAHO" shirt for the Harmonica Fest. Once again turning pennies into dollars and giving my covid battered bank account a new lease on life.
These country folk improbably took a liking to me and at the end of the Summer the locals starting inquiring as to whether I planned on staying. "Well, I'd love to, but I'm gonna need a house to live in." And the town obliged. Pretty quickly I had my choice of three places to stay for the winter and I easily made the decision to shack up in the one with indoor plumbing. And now, here I am. Holed up in a log cabin deep in the heart of nowhere and finally making an honest effort on writing my long threatened memoir – I'm Almost Always Having More Fun Than You.
I've been chronicling the adventures on my podcast "Tuesdays With Jakey" (available everywhere you get your ear holes filled!) Which is celebrating its one year anniversary next week! And of course taking copious notes about all of the insanity I've been witnessing. Feel free to drop me a line sometime, as we actually have a post office here! PO Box 113 Yellow Pine, Idaho 83677. I'll probably even write back.
Yes, it really does feel a bit like Cicely, Alaska. How long will I be here? Who knows? And really, who cares? Because I'm here right now. And to quote the great Chris Stevens from Northern Exposure: "Well, you know the way I see it, if you're here for four more years or four more weeks; you're here right now. You know, and I think when you're somewhere you ought to be there, and because it's not about how long you stay in a place. It's about what you do while you're there. And when you go is that place any better for you having been there?"