Episode 12 of the Get Your Rocks Off Podcast is up now! Featuring an interview with Gibby Haynes of the Butthole Surfers.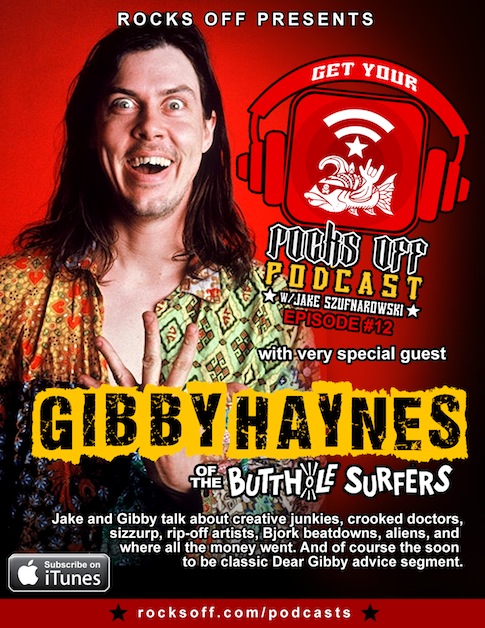 iTunes Link to download / subscribe

Stream or Download on RocksOff Site
I started a podcast. Have I mentioned that yet? Not on this blog I haven't. I was too busy doing the A To Z BLog challenge in april to post about the podcasts. I should have done P is for Podcast. But P was for Prince at Lincoln Center which was too good a story to pass up.
But now that I have done 12 episodes it's probably time for me to tell you about them. Episode #12 features an interview with my friend Gibby. He might be the only guy I know who is crazier than me. We talk about creative junkies, crooked doctors, sizzurp, rip-off artists, Bjork beatdowns, aliens, and where all the money went. And of course the soon to be classic Dear Gibby advice segment.
The last few episodes have also featured a segment called Rodney's Corner where my main mahfukkin man Rockin Rodney Speed expounds on rock n roll history. And occasionally names his favorite pro wrestlers. It's pretty fukken awesome, as it everything Rodney does.
You should totally listen to one of the episodes. Or more than one. And then subscribe on iTunes so you don;t have to keep checking back here. And it would also be rad if you gave it a rating and / or a review on the iTunes site. If you do, and you see me out one night, I'll probably give you a sip of my beer. You rule.
Here's a list of past guests in case you are too lazy to click the iTunes link…
Marc Brownstein of the Disco Biscuits
Eddie Eyeball of 2 Skinnee Js
Tomato from Sound of Urchin
Peter Shapiro owner of Wetlands / Brooklyn Bowl / Capital Theatre
Joe Queer from the Queers
Matt Caughthran of the Motherfuckin' Bronx / Mariachi El Bronx
Mike Farris of the Screamin' Cheetah Wheelies
Kevin Gill – the Voice of Juggalo Championship Wrestling
Sean Dunne – Tribeca Film Festival's Best Documentary Filmmaker 2013
Jonny Fritz – Country Music Superstar
Stormy Shepherd Vehnekamp – the Queen of Punk Rock Booking Agents
Gibby Haynes
Upcoming guests will include Electronic Music Pioneer Amon Tobin, John Joseph of the Cro Mags, The King of the Surf Guitar Dick Dale, and John Wilkes Booth!!