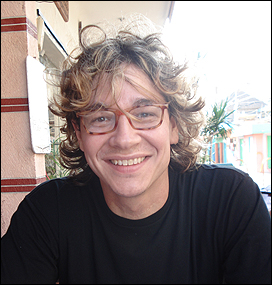 Jake's first legitimate music industry job was working at famed downtown NYC rock club Wetlands Preserve in every imaginable capacity, from ticket-taker to talent buyer, from 1994-2001, until it closed. During that span, he also put time in at a number of other clubs–Coney Island High, CBGB and Pyramid–around town, and founded his own label, Which Records?, best known for a compilation of punk bands singing TV theme songs, as well as the first nationally distributed release of the Brian Jonestown Massacre. The label was active 1997-2000. Taking the concept of DIY to the extreme, he and a minivan full of friends spent two summers following The Warped Tour like it was the Grateful Dead, selling CDs in the parking lot and whoever sold the least each day had to buy the beer.
By 2001, the staff of Wetlands knew the club was not long for this world. Jake, having been the talent buyer for the previous three years, took on a few of the clubs most promising regulars–RANA, Corn Mo, Flacanticide and Sir Joe Russo–as management clients, and, while looking for an unconventional show for one of them, happened upon a fateful idea: boats.
Thinking back to his MC Jake days, Jake rented a 200-capacity boat, brought on the PA, did all the promo himself and ended up with a sold out RANA show and a triumphantly psyched audience. Out on the water, it became clear that this was the spirit of Wetlands writ large in an experience from start to finish, a great concert and a great time. He could hardly resist booking a few more cruises with bands he knew well, and a snowball was set in motion that is still getting bigger fourteen years later.
After Wetlands closed, Jake became talent buyer for the Knitting Factory in New York from 2001-2002, where he was responsible for booking four stages, seven days a week, 365 days a year. Even in the winter months, the boat cruises were in the back of his mind. In them it seemed he had stumbled upon exactly what he wanted to be doing: operating as an independent promoter, for a unique and non-traditional venue, and offering both performers and fans something much more than a typical nightclub experience.
This clearly being his destiny, in 2002 Jake founded Rocks Off, giving the cruises a name for the first time and also began promoting shows independently at a handful of more traditional venues around town, such as B.B. King Blues Club & Grill, Knitting Factory, Irving Plaza, and Tribeca Rock Club. The following summer, he added to his armada a 500-capacity boat, which enabled him to reach into a higher echelon of talent while also running more dates than he ever had before.
"We have relationships with almost every venue in town that is 1,000 capacity or smaller," says Jake. "Currently we're putting shows into Irving Plaza, Bowery Ballroom, BB King's, Terminal 5, Highline Ballroom, Best Buy Theater, Knitting Factory, The Annex, Pianos, The Cutting Room and Sancho Bar while also running over 100 cruise concerts every summer around New York harbor."
And, one unique summer time concert experience clearly not being enough, they have also masterminded a series of shows at a bar on the Coney Island boardwalk where passes for the Cyclone, the freak show and assorted other attractions are included in the price of the ticket–$25.
In 2006, Rocks Off was given just about the highest honor a promoter could ever receive: it was asked to book the final three months at CBGB. Needless to say, they accepted, and the sound of the crowd when the reformed Bad Brains took the stage alone made devoting their lives to this business worth it.
In 2007 Jake formed TRAGEDY: All Metal Tribute to the Bee Gees. Initially started as a goof to play a few shows for friends, the band ended up taking off, recording 3 studio albums, a live DVD, and playing all around the US as well as SIX headlining tours of the UK. After 5 years Jake hung up his bedazzled spandex jumpsuit and relinquished his role of frontman because he "had gotten bored playing the same songs over and over every night. The Bee Gees haven't written any hits in a long time, so we just ran out of interesting material." he noted about his departure.
Not content to limit himself to just booking concerts and boat shows, Jake has continued to expand the Rocks Off reach. 2010 saw the debut of the Rocks Off Concert Express, chartering luxury coach buses to transport people from NYC to large scale concerts and festivals around the northeast. Jake noted that there would probably be big demand for this since the area amphitheaters and arenas outside of the city were not easily accessible by public transport, and that most people in New York City do not have their own cars, or even driver's licenses in a lot of cases! They even dubbed one bus the Juggalo Express and transported a crazy crew of Ninjas over 1,000 plus miles to the Gathering of the Juggalos in Cave-In-Rock Illinois.
In 2011, Jake decided to tap into his extensive knowledge of NYC Rock n Roll history, as well as his love of showing people around to start the Rocks Off Walking Tours, which specializes in tours of the East Village and Lower East Side of Manhattan.
In 2012 he started the Get Your Rocks Off podcast as an outlet for his big mouth and cool friends. Guests have included King of the Surf Guitar Dick Dale, Ginger Wildheart, Marc Brownstein of the Disco Biscuits, and even an episode where Jake just talked to himself for an hour!
And in 2013 they started two different conceptual film festivals, neither of which had ever been done before: first was the Rocks Off Rock N Roll Film Festival which showcases movies about music and musicians as well as films directed by musicians. After the success of that film festival they started the Rocks Off Pro Wrestling Film Festival – which saw special guest Rowdy Roddy Piper surprise the crowd at the sold out Kraine Theater with his appearance to promote his new film Wrestlers Vs Zombies. Stay tunes both here and to the official Rocks Off website to see what this wild and crazy guy will think of next!