Every day in October I will be rocking an A To Z Blog Challenge about my terribly terrific tattoos. Every day a new letter. Today is October 30 and the letter of the day is Y.
Y is for You'll Always Be Corndawg To Me.

Jonny Fritz is one of my favorite people in the whole wide world. I like him so much I once let him ride Bronxy, my Hot-Pink Ducati. He's also one of my favorite singers, favorite songwriters, favorite dancers, favorite leather workers, favorite air brush artists, favorite film scorers, favorite motorcyclists, favorite long distance runners, and favorite friends. Did I mention the singing and the songwriting?
He used to go by the name Jonny Corndawg. People thought that meant he was a silly singer. Sure, he's fun, but also all sorts of serious. So he decided to change his stage name back to his given name, Jonny Fritz.
The night he played his first show as Jonny Fritz I went and got this tattoo. Just to let him know, "You'll Always Be Corn Dawg to Me!"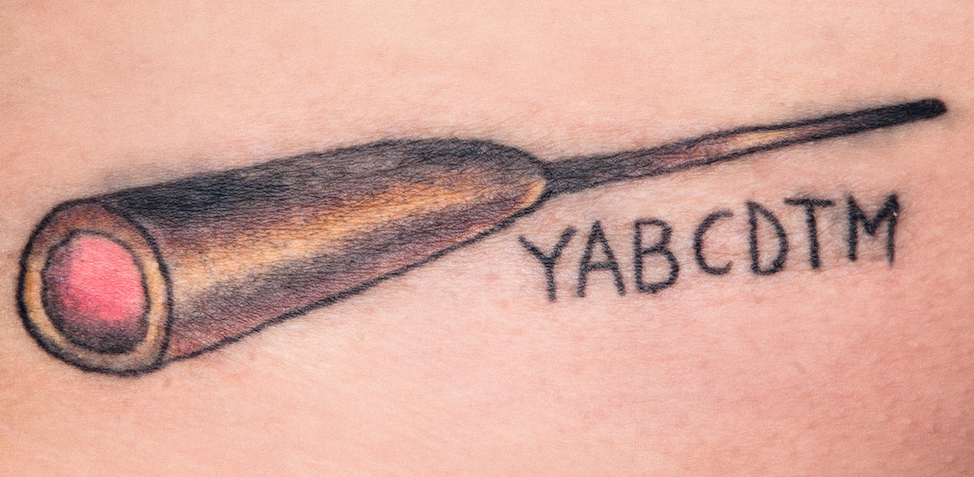 GOODBYE SUMMER Music Video
Features Lots of Great Dancin! Directed By The Incomparable Sean Dunne
Here's a 15 minute documentary about Jonny back he was CornDawgin' It Across the Country.
Also Directed By The Incomparable Sean Dunne
Stray Dawg from Sean Dunne on Vimeo.
Many thanks to the irrepressible spirit and lovely lens of Deneka Peniston for the tattoo pics!