Every day in October I will be rocking an A To Z Blog Challenge about my terribly terrific tattoos. Every day a new letter. Today is October 10 so the letter of the day is I (I'm taking Sundays off)
I is for I LOVE DICK DALE

Dick Dale. The King of the Surf Guitar. To call this dude one-of-a-kind is an understatement. I've been putting on his shows in NYC since 1999 and we've developed a special sort of friendship. Dick is pretty used to being the one in control of a conversation. Not because people cede discussions to him, but because he unknowingly hijacks them. The man has a pretty intense presence. I guess you have to if you keep pet lions and tigers and jaguars. Those big ass jungle cats don't give you respect. You COMMAND it. Or the kill you. Which is not something most humans can do. Or most any species for that matter.
We've been bosom buddies since we first met. I think he liked that I never took him too seriously. Of course I respect him and have grown to love him to death. But I also love fucking with him. Busting his balls and his chops at every turn. I don't think he was used to people taking the piss out of him. But he likes it when I do. And it's bonded us as buds. I guess I commanded his respect. HE could have just as easily killed me the first time I called him Dickie Poo.
When he played on our boat a couple of years ago I decided I should have him sign my arm and get it tattooed. After he signed I said "Make the dot of the 'i' a heart." He aid "No way, you want people to think I'm some kind of homo??"
It took a little arm twisting, but I got him to do it. Figurative arm twisting. Not literal. No way would I literally twist this guy's arm. This is a man who at 74 years old still averages one fistfight per tour. No joke. Years ago were watching college basketball on TV when I asked him what his favorite sport was. Without missing a beat he shot out a karate chop with lightning speed that stopped a fraction of an inch from my throat. With narrowed eyes, he hissed "The octagon. My hands still crave the taste of flesh."
If you call me on the phone and I don;t pick up – which I almost never do – I mean who calls people anymore?? this is the greeting you'll get…
The Tattoo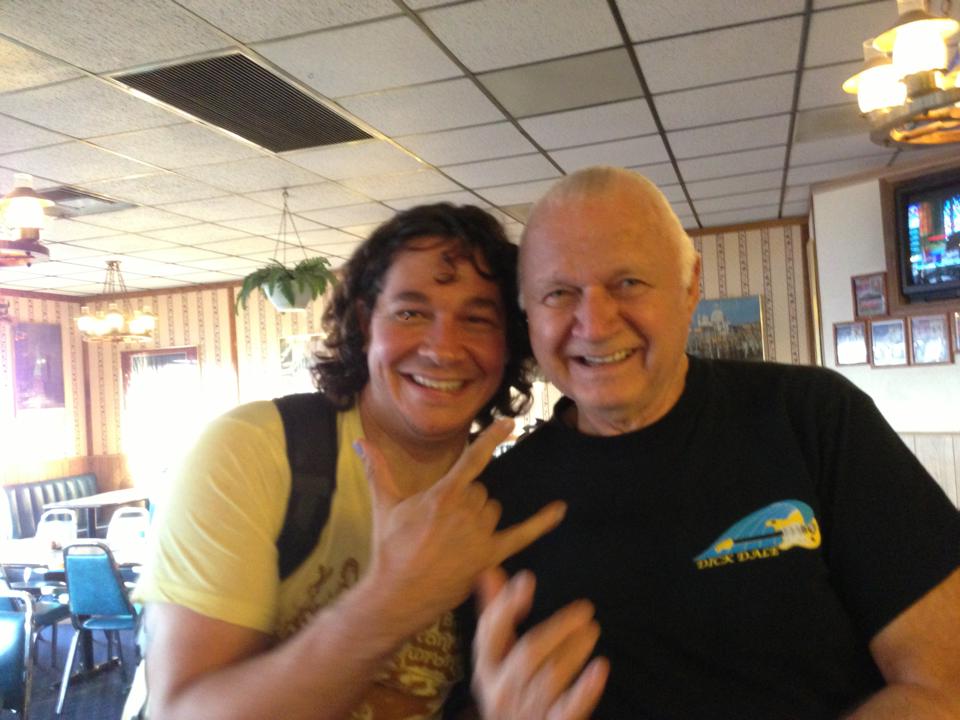 Click here to download the Get Your Rocks Off Podcast with Dick Dale.

Dick at home with his Crazee Cats!
Many thanks to the irrepressible spirit and lovely lens of Deneka Peniston for the tattoo pics!