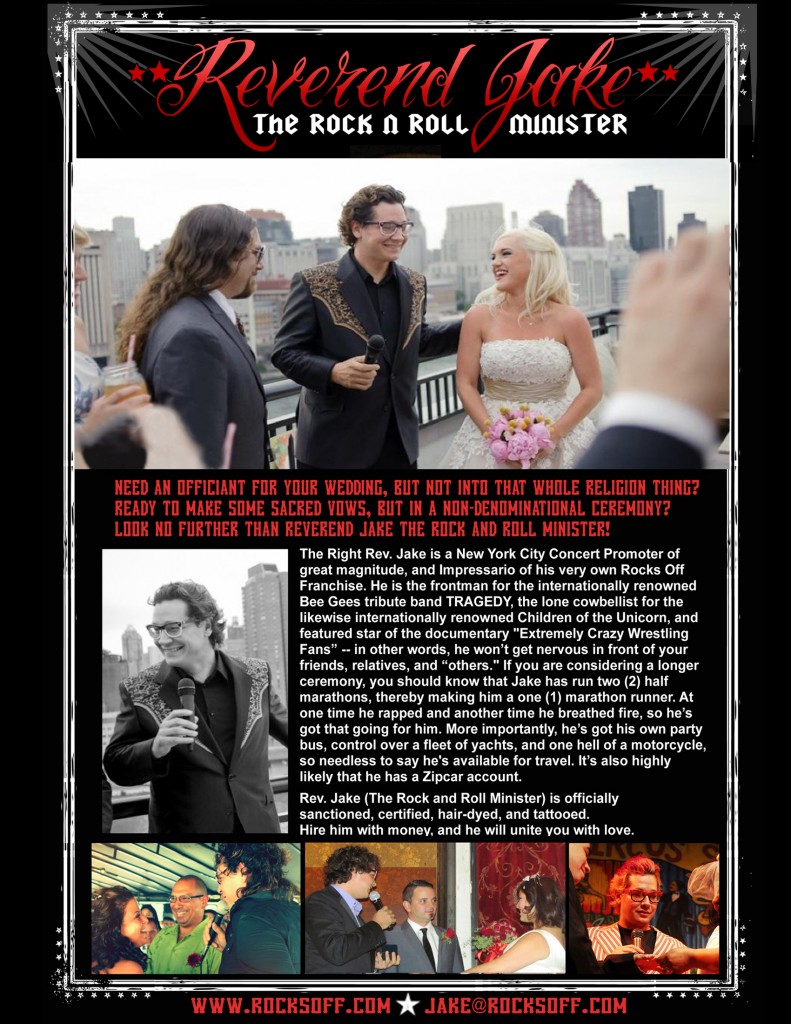 Need an officiant for your wedding, but not into that whole religion thing?
Ready to make some sacred vows, but in a non-denominational ceremony?
Look no further than Reverend Jake the Rock and Roll Minister!
The Right Rev. Jake is a New York City Concert Promoter of great magnitude, and
Impressario of his very own Rocks Off Franchise. He is the frontman for the internationally
renowned Bee Gees tribute band TRAGEDY, the lone cowbellist for the likewise
internationally renowned Children of the Unicorn, and featured star of the documentary
"Extremely Crazy Wrestling Fans" — in other words, he won't get nervous in front of your
friends, relatives, and "others." If you are considering a longer ceremony, you should
know that Jake has run two (2) half marathons, thereby making him a one (1) marathon
runner. At one time he rapped and another time he breathed fire, so he's got that going
for him. More importantly, he's got his own party bus, control over a fleet of yachts, and
one hell of a motorcycle, so needless to say he's available for travel. It's also highly
likely that he has a Zipcar account.
Rev. Jake (The Rock and Roll Minister) is officially sanctioned, certified, hair-dyed, and
tattooed. Hire him with money, and he will unite you with love.